Mayo 2013
1 publicación nueva
25 Things You Should Know About Outlining →
25 THINGS YOU SHOULD KNOW ABOUT OUTLINING 1. PANTSER VERSUS PLOTTER: THE CAGE MATCH The story goes that most writers are either pantsers (which regrettably has nothing to do with writing sans pants) or plotters (which has nothing to do with plotting the fictional in-narrative demises of those who have offended you). We either jump into the story by the so-called seat of our pants, or we...
Marzo 2013
3 publicaciones nuevas
25 Turns, Pivots, And Twists To Complicate Your... →
25 TURNS, PIVOTS, AND TWISTS TO COMPLICATE YOUR STORY 1. THE HEINOUS FUCKERY IS REVEALED This is the "first turn" of the story: something happens that disrupts the status quo and this event pushes the protagonist (and perhaps the world around him) into the tale. The king dies! Terrorists attack! My beloved pony has been pony-napped! A vampire just joined your Little League team! This turn,...
Rethinking motivation →
I'm in the planning stages of my next project, which is honestly my favorite part of the writing process. There's no emotional cost to killing unwritten scenes, no niggling logic flaws, no exhaustion at page 72. Plotting a movie is mostly figuring out who the characters are, and what obstacles they'll face. In film school, we were taught to look at character motivation as the combination of two...
How Storytelling Is Like Tantric Sex →
Man, that title is a gratuitous grab for eyeballs, isn't it? I HAVE NO SHAME. Further, I have very little understanding of Tantric Sex — I mean, I understand that something-something "enlightenment-through orgasm," and something-something "erotic-ecstatic-consciousness," and I'm pretty sure the penis becomes a magic wand and the vagina becomes a wizard's hat and then Harry Potter yells...
Febrero 2013
6 publicaciones nuevas
"One of the loudest voices in my head, the real dick of all the voices, likes to..."
– Shane Nickerson
25 Things You Should Know About Narrative... →
1. KNOW THY NARRATOR One of the first questions you have to ask is, who the fuck is telling this story? Is intrepid space reporter Annie McMeteor telling it in her own voice? Is a narrator telling Annie's story for her? Is the story told from a panoply of characters — or from a narrator attempting to tell the story by stitching together a quilt of multiple minds and voices? Is the story told by a...
"The point is getting it all down, even if it's crap or incomprehensible to..."
– – Warren Ellis On Writing
"So much of screenwriting is information management. A script is made of..."
– Screenwriting 101: Jon Spaihts
Enero 2013
3 publicaciones nuevas
"In creative writing classes in college, the professors will say, 'Write what you..."
– – George R.R. Martin On Writing
Where characters come from
Fiction is weird. The people in fiction are, well, fictional. Made up. They have no lives, and nothing they do, and nothing that happens to them has any consequences in the real world. By definition: made up people don't affect reality. And yet, our bodies don't seem to know this. Yesterday, I actually made a loud, horrified noise as I read an advance copy of Daniel Kraus's forthcoming – and...
10 Tips for 2013 →
1. When considering whether to collaborate with someone, ask yourself this question: Do they have talent? . If the answer is no, you have no business being on that project. 2. Work with problem solvers. People who are eager to cross the finishing line . If someone is always stressed and drowning in trouble, you have no business working with them. 3. Set a start date. Set a finish date. Stick...
Diciembre 2012
3 publicaciones nuevas
"The best fantasy is written in the language of dreams. It is alive as dreams are..."
– Goodreads | Quote by George R.R. Martin: The best fantasy is written in the language of …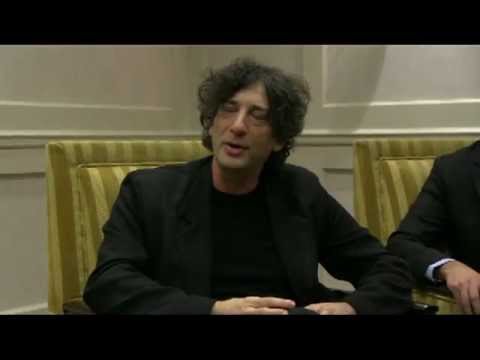 Cinematic Faith | Christopher Nolan →
How did you come to Batman Begins, and what appealed to you about rebooting a series that had already been interpreted by Tim Burton and Joel Schumacher? It's a sign of how quickly things change in the movie business, but there was no such thing conceptually as a "reboot." That idea didn't exist when I came to look at Batman. That's new terminology. Warner Bros. owned this wonderful character,...
Noviembre 2012
3 publicaciones nuevas
"It's harder to imagine the past that went away than it is to imagine the future...."
– William Gibson in The Paris Review (via wordstudio)
""I had the worst schedule on Spy Kids, and I didn't figure it out until the..."
– Screenwriting 101: Robert Rodriguez
"Don't be afraid. That simple; don't let them scare you. There's nothing they can..."
– Harlan Ellison, from his anthology "Dangerous Visions" On Writing
Octubre 2012
2 publicaciones nuevas
"Tips to change your usual mental thinking patterns. 1. Take a walk and look for..."
– 101 Tips on How to Become More Creative | The Creativity Post  
"When I am thickening my plots, I like to think: What if… What if…"
– – Patricia Highsmith On Writing
Septiembre 2012
2 publicaciones nuevas
"There is nothing more important than the third act as it's the third act that..."
– Scott Meek
"What you can scientifically look at is the world in which he [Shakespeare] wrote..."
– Screenwriting 101: Baz Luhrmann
Agosto 2012
3 publicaciones nuevas
30 Indispensable Writing Tips From Famous Authors
21. Ray Bradbury Image by STEVE CASTILLO / AP
"Whereof what's past is prologue; what to come, In yours and my discharge."
– The Tempest, William Shakespeare
Julio 2012
3 publicaciones nuevas
"Writing is like meditation or going into an ESP trance, or prayer. Like..."
– – Carolyn Chute from the NYT, September 27, 1999 On Writing
"The bad novelist constructs his characters; he directs them and makes them..."
– – André Gide, taken from "Advice to Writers" edited by Jon Winkour On Writing
The Wisdom of Nora Ephron: 20 Invaluable Pieces of...
When Liz Smith prematurely (and opportunistically) reported yesterday afternoon that Nora Ephron had died, I didn't want to believe it could be true. But when the writer and filmmaker's passing was confirmed a few hours later, all I could think about was an evening I was fortunate enough to spend in her presence a few months ago, when Lena Dunham screened Ephron's directorial debut, 1992′s...
Junio 2012
1 publicación nueva
Zen en el arte de escribir
"Thomas Wolfe se tragó el mundo y vomitó lava. Dickens comió cada hora de su vida en una mesa diferente. Molière, para degustar la sociedad, empuñó un escalpelo, como hicieron Pope y Shaw. Adonde se mire en el cosmos literario, todos los grandes están atareados en amar y odiar. ¿Ha abandonado usted esta ocupación básica por obsoleta para su escritura? Entonces se pierde una buena diversión....
Mayo 2012
6 publicaciones nuevas
25 Things Writers Should Know About Creating... →
1. Your Story Must Be An Incomplete Equation A complete equation is 4 + 5 = 9. It's simple. Clean. And it's already resolved. Stories are not simple. They are not clean. And we most certainly don't want to read stories that have already been resolved. We read stories that evolve and evade as we read them. Their uncertainty feels present — though we know the story will finish by its end, a good...
Congratulations, Your Pilot Just Got Picked Up....
amazonstudios: Noah Hawley is a novelist (The Good Father) and screenwriter (Lies and Alibis) who created and ran two TV shows for ABC (The Unusuals and My Generation). In this exclusive post, Hawley offers an insider's perspective on what it's like to have your show selected for a network's fall schedule. First of all, holy crap. You've already accomplished six impossible things. You sold a...
""Plot is people. Human emotions and desires founded on the realities of life,..."
– On Writing
1 etiqueta
"A writer is somebody for whom writing is more difficult than it is for other..."
– Thomas Mann
2 etiquetas
Marzo 2012
14 publicaciones nuevas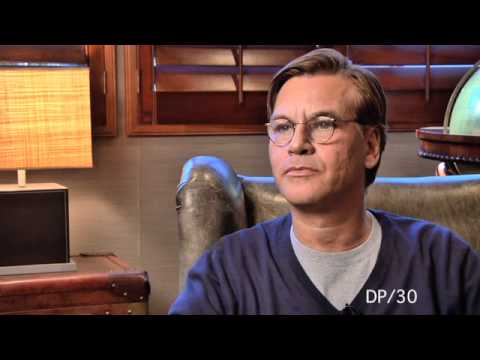 Screenwriting 101: Robert Towne →
"Generally speaking, if you don't set everything up in the beginning, you'll pay for it… in the middle or in the end. So I would rather pay for it at the beginning. It's not television and they're not going to go off into the icebox, or they're not going to change channels. An audience in a movie will forgive you for just about anything for the first 10 minutes or so. But really nothing at the...
Ver
Si te gusta el cine y contar historias, esta charla es de visión obligada. 
Ver
Filmmaker Andrew Stanton ("Toy Story," "WALL-E") shares what he knows about storytelling — starting at the end and working back to the beginning. (Contains graphic language …) La charla que más esperaba del TED de este año. 
Ver
The Holstee Manifesto We wrote a manifesto but we never wrote a business plan. In the months leading up to the summer of 2009, Holstee was just a small side project. We had sold a hundred or so shirts, mostly to family and close friends looking to support us. Having just quit our jobs without a plan or idea of how we would spend our days, we were filled with a ton of raw energy, emotion, and...
10 Tips on Writing from David Ogilvy | Brain... →
by Maria Popova "Never write more than two pages on any subject." How is your new year's resolution to read more and write better holding up? After tracing the fascinating story of the most influential writing style guide of all time and absorbing advice on writing from some of modern history's most legendary writers, here comes some priceless and pricelessly uncompromising wisdom from a very...
"1. Write. 2. Put one word after another. Find the right word, put it down. ..."
– Neil Gaiman: On Writing Tomakassem.tumblr.com reblogged from 
"Every sentence must do one of two things—reveal character or advance the action."
– Kurt Vonnegut, Bagombo Snuff Box: Uncollected Short Fiction (via engl272)
"The road to hell is paved with adverbs."
– Stephen King, On Writing (via mattjeremiah)
"There really are no characters in plays; there are relationships. Where there..."
– – Arthur Miller On Writing
Los Otros Planes →
Algunos cambios en la plantilla del Tumblr. Dejo de lado el aspecto de papel viejo que tenia antes por uno mas compacto y claro. Eso si, los artículos largos mejor leerlos en su propia pagina
MIND MELD: Lessons Learned From Master... →
Brandon Sanderson: Sanderson's Second Law →
A few years back, I wrote an essay on creating magic systems that I titled Sanderson's First Law. It had to do with the nature of foreshadowing as it relates to solving problems with magic. In that essay, I implied that I had other "laws" for magic systems that I'd someday talk about. Well, that time has come, as I've finally distilled my thoughts for the second law...
Brandon Sanderson: Sanderson's First Law →
Introduction I like magic systems. That's probably evident to those of you who have read my work. A solid, interesting and innovative system of magic in a book is something that really appeals to me. True, characters are what make a story narratively powerful—but magic is a large part of what makes the fantasy genre distinctive. For a while now, I've been working on various theories...